Boulder Hut's founders Art Twomey and Margie Jamieson's were two of British Columbia's original powder pioneers. They built Ptarmigan and Boulder huts in the 1990s, were among the first to offer remote lodge-based ski touring, and were key players in establishing snow safety training programs for backcountry recreationists.
Art and Margie's conservation efforts are legendary. They were instrumental in establishing the Purcell Wilderness Conservancy, nearly 500,000 acres of protected land bordering our 15,000-acre ski tenure.
Now owned and operated by the Yancey family, Boulder Hut offers challenging terrain for every skier. Chutes, high alpine bowls, glades and treed powder skiing. We have it all.
Unlike some backcountry ski touring lodges, we do not share our tenure with outside heli-ski operations. That, combined with the fact that we border the Purcell Wilderness Conservancy means that your group will have first tracks and solitude while you are with us.
Good fitness and general competence on skis or a splitboard are needed to enjoy our varied terrain. Our guests choose their challenge comfort level when climbing couloirs, skiing the steeps and alpine bowls, or cruising the glades for the day.
Our ACMG-certified backcountry ski guides use all of their tools and skills to find you the best powder skiing available, given the current conditions. We feature diverse day of touring close to the lodge and epic trips for the seasoned enthusiast.
We group similar skill levels for each ski week. Whatever the weather brings, we have plenty of varied terrain to keep you skiing.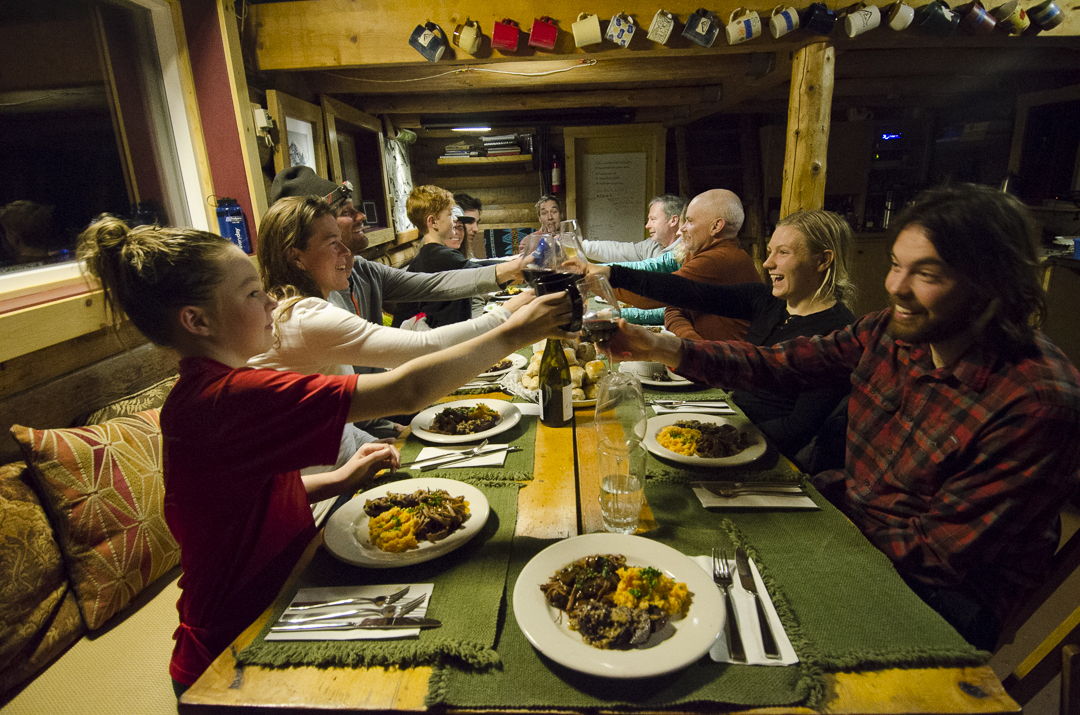 At Boulder Hut Adventures, we pride ourselves in providing an authentic backcountry experience. With more than 35 years of history, we remain dedicated to enhancing the human experience in remote outdoor adventure.
Our down home hospitality means nutritious, delicious home cooked meals in a comfortable lodge with great company and a long standing history of guided epic adventure. We provide you everything you need for a comfortable stay.
Separate dining, guest sleeping, guide lodging and sauna buildings
Home cooked meals featuring fresh meat, fresh vegetables and fresh fruit
Wood heat
Running water
Electricity provided by our mico-hydro system (you can charge your camera battery)
Electric lights
Bunkroom-style sleeping accommodations with pillows, fresh linens and duvets
Stretching area
Indoor pee toilet; two outdoor outhouses
Sauna
The Boulder Hut guest experience is cell and internet free. We find our guests appreciate the opportunity to disconnect from the distractions of the outside world, guilt-free, during their stay.
Staff and visiting guides do have the capability to communicate with the outside world and for it to communicate with us should we have an emergency, or should your family need to reach you in the event of one.